What is the most heartwarming book to read?
From A Street Cat Named Bob by James Bowen to The Book Thief by Markus Zusak, here are six answers to the question, "What are a few heartwarming books you'd recommend for a reading list?"
If you're looking for a truly heartwarming story, you would struggle to find another one that will make you smile and perhaps even get teary-eyed like this one.
It's a very touching book based on a real-life story of a man struggling with heroin addiction and a red cat that came into his life and turned it around with what seems to be the genuine power of love.
Natalia Brzezinska, Marketing and Outreach Manager, PhotoAiD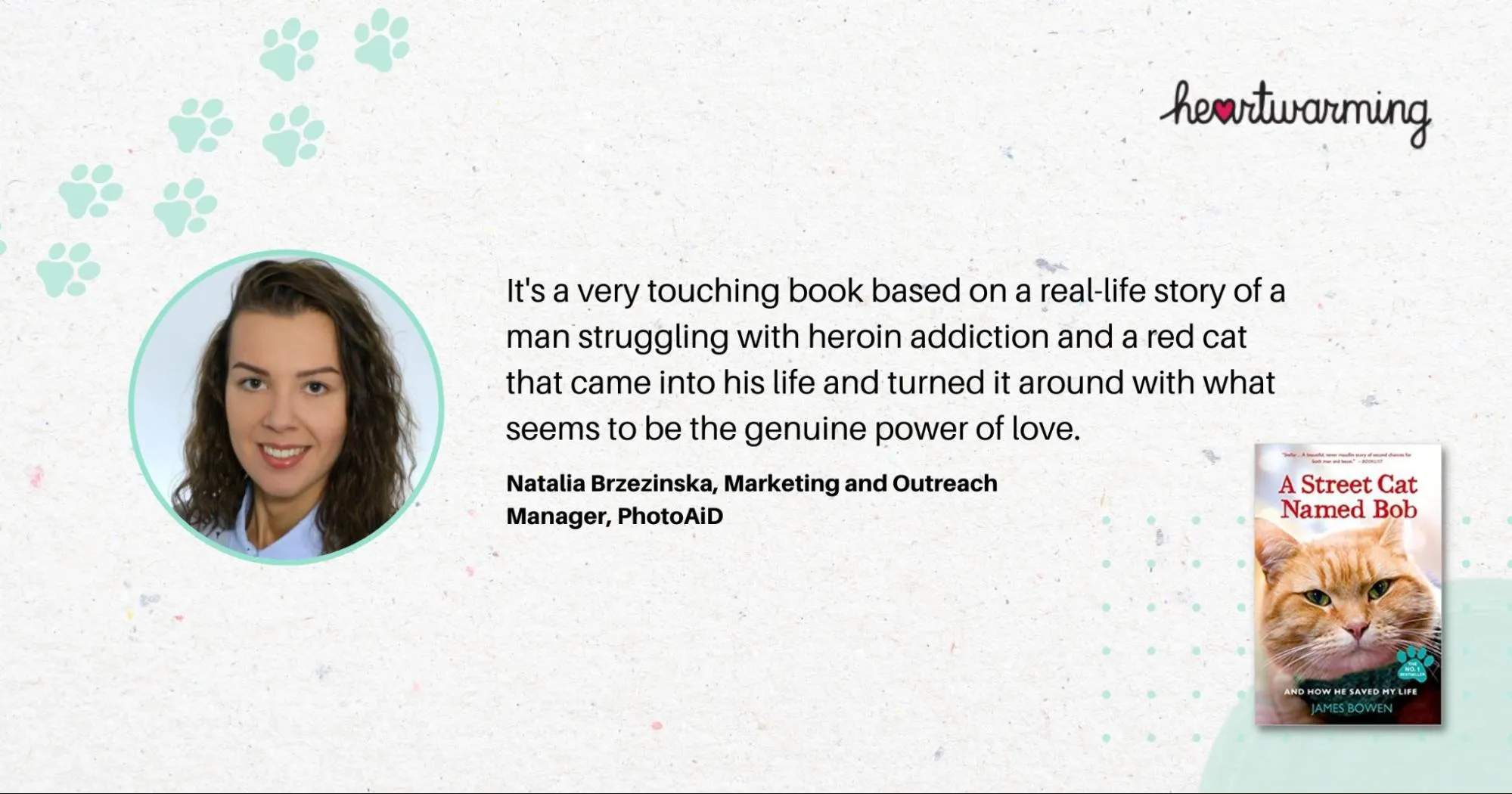 The Fault in Our Stars by John Green is a heartwarming novel that is perfect for anyone looking for a touching and emotional read. The book follows the journey of two young cancer patients, Hazel Grace Lancaster, and Augustus Waters, as they navigate their love story amidst the challenges of their illnesses.
Through the characters, Green delves into themes of mortality, love, and the power of human connection. The narrative is equal parts touching and uplifting, showcasing the beauty and resilience of the human spirit in the face of adversity.
The thing that makes this book so special is its ability to balance being a powerful meditation on life and death and also being a page-turning love story.
David Reid, Sales Director, VEM-Tooling
This book follows Christopher, an autistic teenager who embarks on a journey to solve the mysterious death of his neighbor's dog and, while doing so, learns some valuable lessons along the way about himself and the world around him.
The book is an inspiring exploration of acceptance, determination, and courage in the face of adversity. It will leave readers with a newfound appreciation for life and its possibilities.
Nick Varga, Chief Riding Officer, Eride Journal
This classic novel is a timeless tale of friendship, love, and the complexity of life. The Little Prince tells the story of an unlikely friendship between a little boy and a fox, and the lessons they learn about life along their journey.
Beautiful imagery and profound wisdom fill this story and will have you reflecting on your own life experiences. It's a book that will warm your heart and remind you of the importance of friendship and love.
Shaun Connell, CEO and Founder, Learn Financial Strategy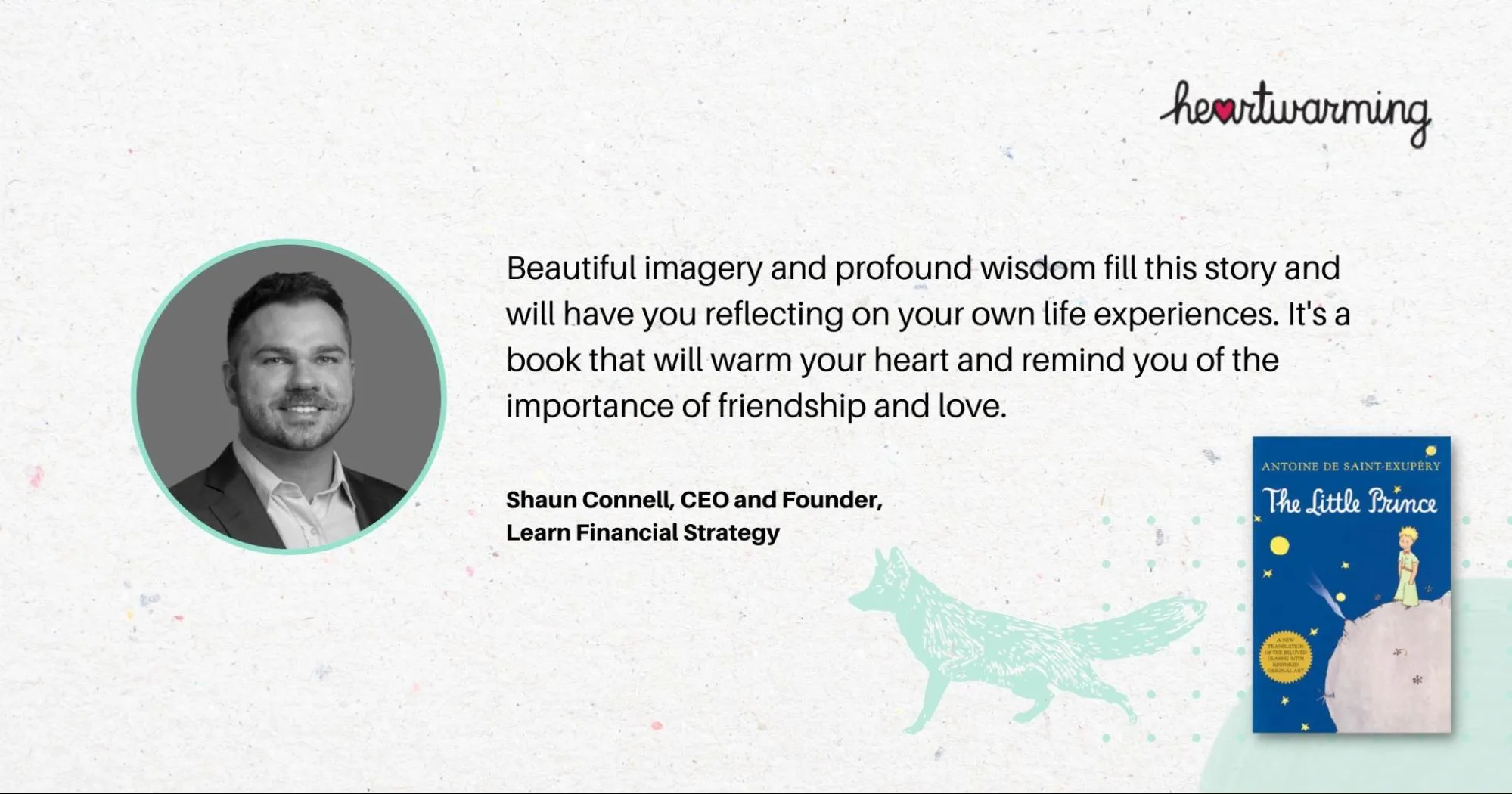 This book is about a transgender girl's breathtaking fight to survive as herself in Victorian England. Hamer shines a light on the struggles of the era, overcoming injustice and inequality, but also offering hope for a brighter future.
We can create a world that accepts someone being transgender through small actions and everyday choices.
Lilia Koss, Community Manager, Facialteam
Set in Nazi Germany, the novel follows an orphaned girl, Liesel, and the kindness and humanity she experiences even during a trying time.
Through a series of small moments, Zusak creates a powerful story about human resilience and how one can remain kind in the face of darkness. A book that will leave readers feeling inspired and touched; The Book Thief is an uplifting and heartwarming read that is sure to stay with you long after you have finished it.
Ben Bašić, CEO, Router IP Net
Submit Your Answer
Would you like to submit an alternate answer to the question, "What is one heartwarming book you'd recommend for a reading list?"
Related Questions