8 heartwarming quotes and their importance
From Helen Keller's quote on beautiful things to Rumi's philosophy on our destiny, here are eight answers to the question, "What are your favorite heartwarming quotes, and what is great about them?"
The Most Beautiful Things Must Be Felt
Bring Your Own Sunshine
It's Not Who We Are that Matters but What We Do
Rejection Is Just Redirection
You Are Better Than You Seem
I'm Still Learning to Love Myself
Develop Internal Wealth that Will Stay With You Forever
It's on It's Way to You
The Most Beautiful Things Must Be Felt
"The best and most beautiful things in the world cannot be seen or even touched; they must be felt with the heart." – Helen Keller.
This quote is heartwarming because it reminds us that the most important things in life are not physical possessions, but rather intangible feelings such as love, joy, and peace. The quote encourages us to take the time to appreciate and embrace what truly matters.
Michael Alexis, CEO, Swag.org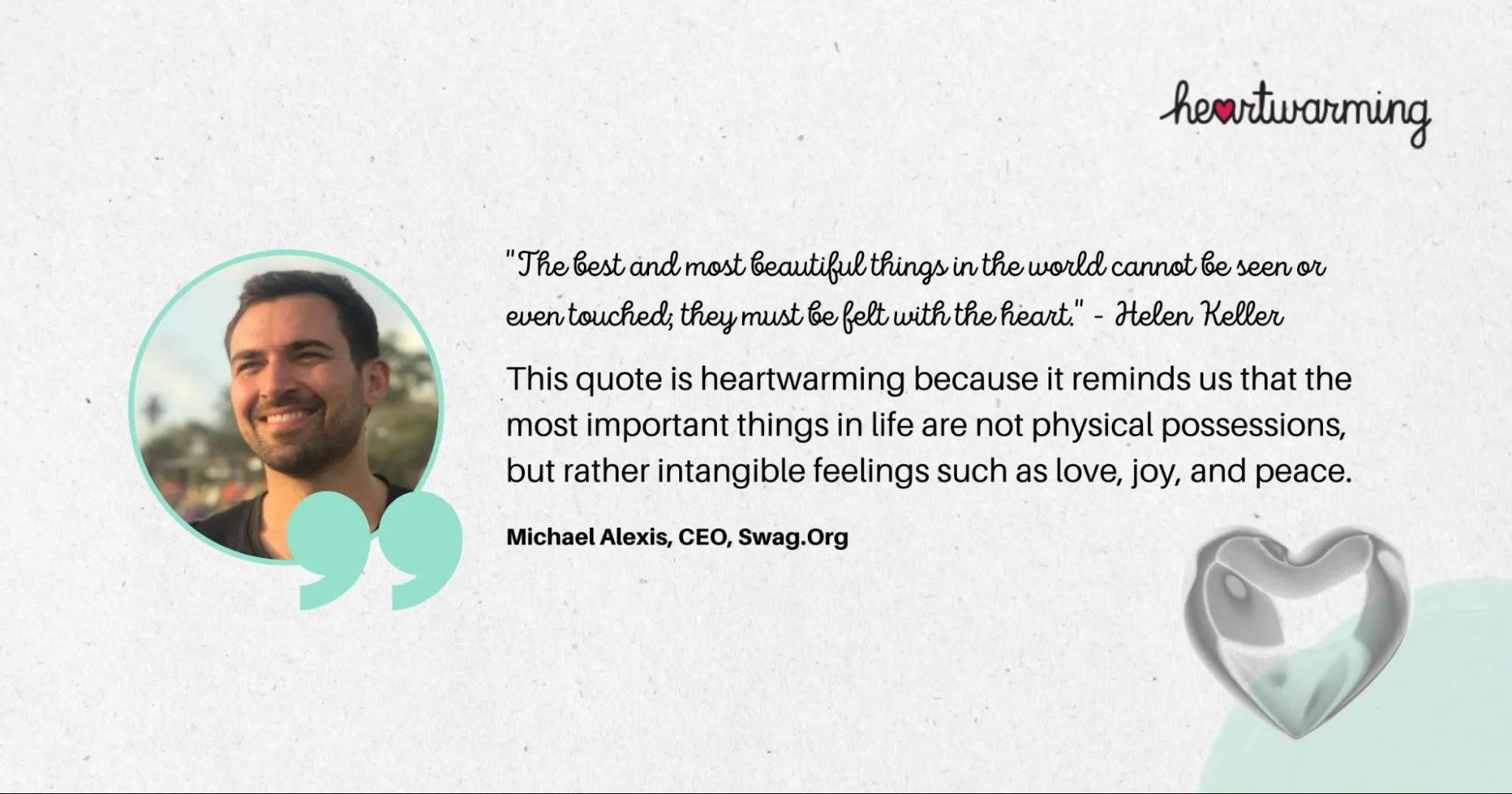 Bring Your Own Sunshine
"Wherever you go, no matter what the weather, always bring your own sunshine." – Anthony J. D'Angelo
This optimistic message reminds us of the importance of carrying our own happiness with us wherever we go. It encourages us to make sure our mental and emotional well-being is not dependent on external factors. It also reminds us that no matter what situation we find ourselves in, we can always bring our own sunshine and brighten up any day. This quote is a great reminder of the power each of us has to make our lives brighter!
Aviad Faruz, CEO, Faruzo
It's Not Who We Are that Matters but What We Do
"It's not who we are that matters, but what we do."  – Anon.
I love this quote because it reminds me of the idea that our true selves are what we do—and that's what matters. It's not about being a certain person, or about having certain traits or characteristics. It's about who you are when you're doing something, and how those actions make you feel.
The more I think about it, the more I realize this quote applies to just about everything! It applies to relationships and friendships, work and careers, and even simple things. It applies to everything because who you are when doing these things is ultimately what matters most.
Shaun Connell, Founder, Writing Tips Institute
Rejection Is Just Redirection
"Rejection is just redirection." – Anon.
I remember it when I encounter challenges and setbacks in life. Some things are simply beyond our control. We need to learn how to look at the glass half full and see things in a positive light. At the end of the day, it is all about perspective. This quote gives me hope and makes me believe that something better is out there for me.
Michelle Siy, Content Writer, Oliver Wicks
You Are Better Than You Seem
"You are braver than you believe, stronger than you seem, and smarter than you think." – A. A. Milne.
What I find so great about this quote is that it reminds us to always believe in ourselves and our abilities, even during tough times when we may feel like giving up. It encourages us to keep pushing forward, no matter what challenges or obstacles we may face, and to never forget our inner strength and resilience. This quote also serves as a great reminder to always be kind to ourselves and to stay positive, even when life gets hard.
Tiffany Homan, COO, Texas Divorce Laws
I'm Still Learning to Love Myself
"I'm still learning to love the part of myself that no one claps for." – Rudy Francisco
Do you ever notice how people around us have such an influence on what we love and what we hate? We love things that are praised and applauded by people. Humans crave recognition, motivation, and appreciation. We have parts of ourselves that people easily notice and applaud, and we have others that are frowned upon or simply not noticed. These parts take a while for us to love and embrace, which is actually quite sad.
Lydia Mwangi, Content Writer, Barbell Jobs
Develop Internal Wealth that Will Stay With You Forever
"You aren't wealthy until you have something that money can't buy." – Garth Brooks
There is nothing more valuable than the internal wealth of a kind human soul. You would agree that everything available and affordable loses its value partially after obtaining it. Whereas getting something that you can't sell or buy makes it priceless. Money and goods come and go and never define personal traits. But only invaluable acquisitions make us who and what we are. Develop internal wealth that will stay with you forever!
Daria Globchak, HR Leader, Elai.Io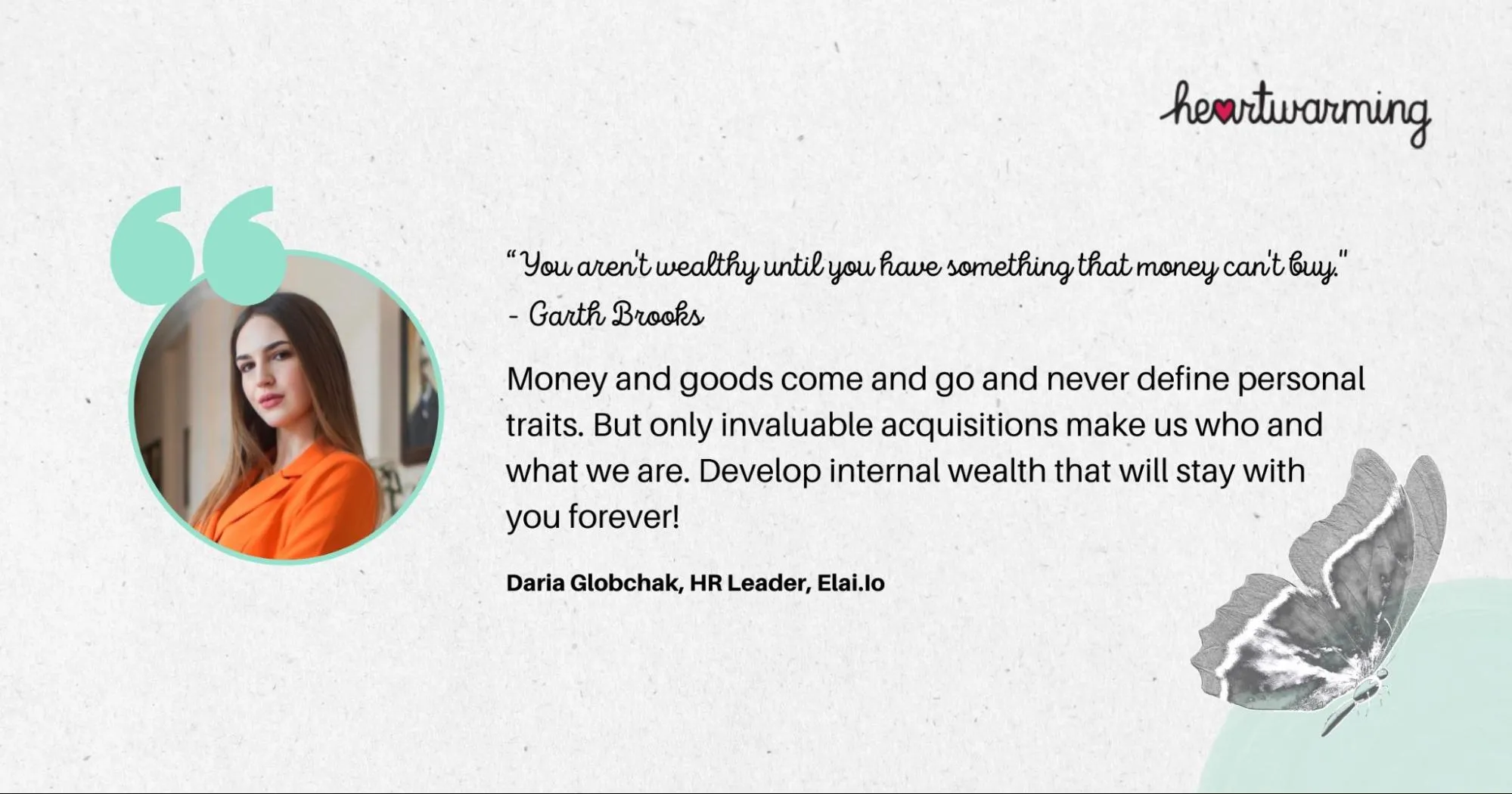 It's on It's Way to You
"What you want, wants you; it is on its way, and will arrive on time." – Rumi
Each time I had a big win, like closing a big business deal or being broke, but moving toward my target and reaching it right on the last day, I wrote this quote on a piece of a sticky note. It's from Rumi, the great philosopher.
I have a collection of these, mostly yellow, sometimes pink or white sticky notes, some with dates or others a reference to the event, and I have put them on my refrigerator door to remind myself that all is being handled.
Natassia Matin, CEO & Founder, Digital Talent Sherpas
Submit Your Answer
Would you like to submit an alternate answer to the question, "What is one heartwarming quote? What's great about it?"
Related Questions